The late Founder of the Islamic Republic in Iran Imam Khomeini was and still is the most popular and favorite revolutionary leader throughout the world history.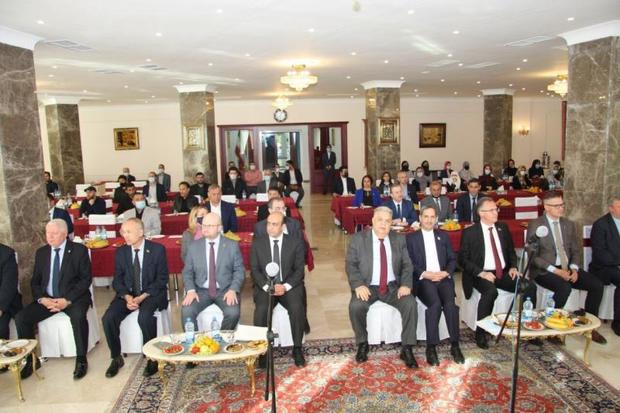 Iran's Ambassador to Belorussia Saeed Yari made the remarks in a commemoration ceremony to mark the 23nd passing anniversary of the late Imam Khomeini which was held at the Iranian Embassy.
The spiritual gathering was broadly attended by the Belorussian political, parliamentary, religious, and economic authorities, as well as a large number of foreign ambassadors, diplomats and a large number of Muslims and Iranians living in Minsk.
In the memorial service the speakers included the Mufti if Belorussian Muslims, the head of Belorussian Parliament's International Affairs Commission, the ambassadors of Azerbaijan Republic, Turkmenistan, Kyrgyzstan, Syria, Venezuela, Cuba, and Moldavia, as well as the head of Belorussia's Ahl al-Beit Forum and his deputy, deputy head and members of Belorussian Liberal Democratic Party, the head of Belorussian State University's Faculty of Philosophy and Human Sciences, Head of Amacador Holding, managing director of Maaz Holding, and a some Muslims from Tajikistan, Lebanon, Palestine and Iran living in Belorussia, as well as some Iranian university students and merchants living in Belorussia.
They focused on various aspects of Imam Khomeini's personality, viewpoints and influence in Islamic countries and beyond.
Yari said in his speech that the late Imam was and still it the most popular and favorite revolutionary leader throughout the world history.
"Imam Khomeini was meanwhile the best model and symbol of an exalted personality who lived the simplest possible life and was quite frank with his people, who believed wholeheartedly in the righteousness of the people," added the ambassador.
Yari added that the late Imam presented true independence, coupled with prestigious life and wellbeing to the Iranians, ant it was under his mighty leadership that Iran after the 1978 Islamic Revolution got rid of the hegemony of the United States and acted in accordance with the Neither West nor East, Islam is the Best as a rule in its foreign policy.